NEW MOON RITUAL
BY: SIMONE REITBERGER
I wanted to share my new Moon Ritual with you, and hope it helps you move towards a happier and healthier version of you too.
---
A time to set aside to go inwards.
A time for self nourishment.
A time when old anxieties, memories and experiences rise up eager to be dealt with.
A time for introspection.
A time to rest and rejuvenate, to dream and set intentions and goals.
To spend time on your vision.
It is  an energy of new possibilities and what you want to bring into your life.
A new cycle.
---
It's all about intention and connecting to
the longing in your heart and you can't go wrong
Via Mysticmamma
Mantra:
"Like a butterfly emerging from it's cocoon,
I have been transformed inside,
All parts of myself now aligned in Truth,
I have nothing left to hide."
Kaypacha says:
"Whoa! Anything can happen!
Anything that BRINGS YOU OUT that is!
"We've got both the Sun and Mars coming out of Cancer to be joined by the Moon this weekend.
Could be quite some turbulence prior to 'curtain time' tho (Sun square Uranus)."
"The entire cosmos is conspiring to bring us all OUT, fully, wholly, truthfully, and completely.
The more anyone has been hiding, lying, pretending, deluding themselves or others, the more challenging this will be.
"For those sincerely on the quest of evolving no matter what, this can be a time where expectations are exceeded!
That curtain can go up and the crowd roars for more…..
of YOU, the real you, the true you, the AMAZING you."
Step 1

Create your sacred space.
Statue, crystals, candles, pictures, ornaments.
Step 2
Light a candle
The flame represents your inner light.
Step 3
Turn on ionizer adding 6 drops of PURE Blend (Organic)
This will purify both your space and yourself. Suggested essential oils Juniper, Rose, Grapefruit, Lemongrass, Sage, Lemon, Tea Tree, and Eucalyptus.
Step 4
Set your intentions for what you wish to manifest in this new beginning, the New Moon…
Writing out on every level what I truly desire to call in.
Step 5
Date the page and sign off.
Place somewhere you can check in and refer to and track.
Step 6
Bless your intentions.
Affirm, "May all my intentions be sealed & realised"
Step 7
Know that it is done & give thanks
Download your Aromatherapy New Moon Ritual Cheat Sheet.
---
PRODUCT SPOTLIGHT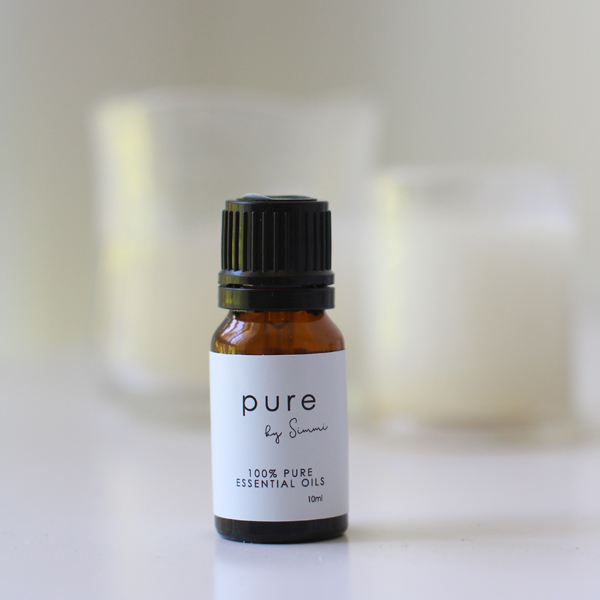 PURE
Yellow – Purity, Cleanse, Detox
Aroma – Clean and refreshing with sharp citrus top notes, intense and rich green herbaceous middle notes and a camphorous, balsamic earthy woody base.
Cleanse the mind of unresourceful states and negativity, the body of toxins, and soul of limiting beliefs. This blend is a tonic for your body and mind when everything seems toxic and you can't see the light.
PURE relieves feelings of heaviness and lethargy, heralds new beginnings when you feel stuck in bad memories and patterns.
PURE releases excess toxins from any type of overindulgence. 
Cleanse your environment from dis-ease allowing fresh ideas and regeneration to begin on all levels.
This blend will provide the strength to find your power within, allowing you to free up space for welcoming new ideas, recreation of your new healthy body and abundance if you allow.
Conditions – Regenerative, Detoxifier, Dull/tired skin, Congestion, Cellulite, Over – indulgence, Hangovers
Goddess – Ganga
Chakra – Crown
When toxins and negative energy accumulate, reach for PURE to cleanse your mind, body and spirit.
---
If you want to learn more about Essential Oils in my upcoming E-course The Art & Science of Essential Oils, join the waitlist and we will let you know once we next launch. 
 Add your name to  the waitlist
Much Health +  Happiness + Love