INTENTION VS RESOLUTION

BY: SIMONE REITBERGER
Plus special January offer:
'Blend of Intention'
An Aromatherapy consultation & personalized scent to support your desires
January is the time many of us make resolutions and set goals – career goals, personal goals, health goals…
Lovely, if you're anything like me the problem is by the end of January motivation has dropped and resolutions have fallen by the wayside. This makes you start the year feeling bad about yourself.
And with this sense of failure, the inner critic starts a party in your head.


Resolutions create a sense of lack – you are not enough. They heighten awareness of imperfections. They make you feel bad about yourself. This makes it incredibly difficult to maintain positivity around your resolution.
For instance, the resolution 'I want to start a new hobby' puts pressure on you to question what you're good at, find the right hobby and persevere – not to mention finding the time to fit it in. That's pressure that doesn't serve you well.
Instead, consider the intention 'I want more creativity in my life'. Immediately it offers up opportunities. It's open and rather than charged with obligation it has a sense of ease and invitation to it. You can do as much or as little as you're able without fear of failure or self-recrimination.
Instead of, 'I want to eat less junk food' say 'I want to feel more healthy and energetic'. Identifying the feeling you want to achieve focuses your body, mind and spirit. (I can help you achieve this, if you let me).
So stop the resolutions, don't do it to yourself.
Let me help you set intentions for the new year as you start you on your path to empowerment and fulfillment of your true potential.
Lovely let's work together and on your word for the year.
Mine is Flourish as I'm putting myself out there and bringing my 30 years plus in the health industry and all that I've learnt into serving you better.
You deserve it and so do I.
I want you to achieve all that you set for yourself and with my support make things happen for you the way you have dreamed of.
---
SCENT OF INTENTION
An Aromatherapy consultation &
personalized scent to support your desires
For January, I'm setting a special Aromatherapy session around
'My Intentions for 2022'
Including a full consultation and discussion of your goals and perhaps self-limiting beliefs.
Lovely this is more than a blend – it's a holistic and 'scentual' experience – a stunning way to support and inspire you as you bring about the things you want from this year.
From your 60 minute consultation with me, a qualified Aromatherapist you'll:
♥ Explore and gain clarity around your intentions aligning them with how you want to feel in 2022.
♥ Understand the 'how' of what you want to feel and the 'why' behind it.
(This will solidify your intentions into your subconscious level making them even more powerful.)
♥ Discuss your aroma likes and dislikes, preferences and perfumes you use.
♥ Delight in your exquisite handcrafted blend which will envelope you with your intention every time you use it.
♥ Enjoy a love note from me to you that guides you through your blend and how best to use it.
♥ Recite a meaningful and uniquely crafted affirmation to use as you apply your blend.

Your bespoke
Aromatherapy Blend of Intention
includes:

♥ 100 ml Body Boost Blend of 100% perfume in a base of Organic Jojoba Cold Pressed Oil in an amber glass bottle.
♥ Absolutely 100% pure Essential Oils sourced from nature around the world (and where possible organic so even purer on your skin).
♥ Enjoy a love note from me to you that guides you through your blend and how best to use it.
♥ Recite a meaningful and uniquely crafted affirmation to use as you apply your blend.
♥ No synthetics used and a natural perfume for you to place on your pulse points as you say your affirmation.
♥ Your profile and Body Boost Blend recorded so you can repeat it or have designed an entirely new blend to support you in other realms and take you to another level.
♥ Delivery within the month (allowing for delivery time anywhere in the world).
♥ A little extra for shipping (Australia $10, Rest Of World/ROW $30).
$149 January Special Offer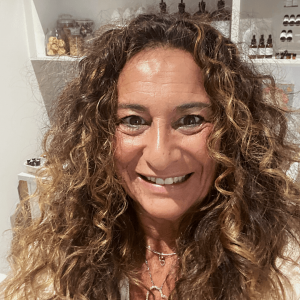 Here, we will go through a thorough health assessment and create an Aromatherapy/Wellness program designed just for you.
---
Product Spotlight
Ultrasonic Aroma Air Ioniser CAMEL Wood
AROMATIC IONISERS
Ultra Sonic Humidifiers

---
If you want to learn more about Essential Oils in my upcoming E-course The Art & Science of Essential Oils, join the waitlist and we will let you know once we next launch.
Add your name to  the waitlist
Much Health +  Happiness + Love